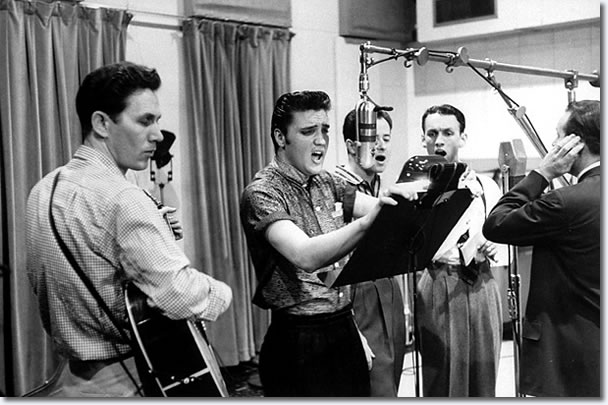 Här hittar du information om de låtar Elvis spelade in.
Du hittar bland annat var och när låtarna spelades in, vem som skrev låten, vilka musiker som medverkade samt texterna.
Denna information uppdateras löpande!
A
All Shook Up
Any Way You Want Me (That's How I Will Be)
Anyplace Is Paradise
B
(You're So Square) Baby I Don't Care
Baby Let's Play House
Blue Christmas
Blue Moon
Blue Moon Of Kentucky
Blue Suede Shoes
Blueberry Hill
C
D
Don't Be Cruel
Don't Leave Me Now
Don't Leave Me Now (från Jailhouse Rock)
E
F
First In Line
Fool, Fool, Fool
G
Good Rockin' Tonight
Got A Lot O' Livin' To Do!
H
Harbor Lights
Have I Told You Lately That I Love You
Heartbreak Hotel
Hot Dog
Hound Dog
How Do You Think I Feel
How's The World Treating You
I
I Beg Of You
I Believe
I Don't Care If The Sun Don't Shine
I Forgot To Remember To Forget
I Got A Woman
I Love You Beacuse
I Need You So
I Want To Be Free
I Want You, I Need You, I Love You
I Was The One
I'll Never Let You Go (Little Darlin')
I'll Never Stand In Your Way
I'm Counting On You
I'm Gonna Sit Right Down And Cry (Over You)
I'm Left, You're Right, She's Gone (långsam version)
I'm Left, You're Right, She's Gone
Is It So Strange
It Is No Secret (What God Can Do)
It Wouldn't Be The Same Without You
K
L
Lawdy, Miss Clawdy
Let Me
Lonesome Cowboy
Long Tall Sally
Love Me
Love Me Tender
Love Me Tender (end title version)
Loving You
M
Mean Woman Blues
Milkcow Blues Boogie
Money Honey
My Baby Left Me
My Happiness
Mystery Train
N
O
Old Shep
One Night
One Night Of Sin
One-Sided Love Affair
P
Paralyzed
Party
Peace In The Valley
Playing For Keeps
Poor Boy
Q
S
Shake, Rattle And Roll (1955)
Shake, Rattle And Roll
So Glad You're Mine
T
Take My Hand, Precious Lord
Teddy Bear
Tell Me Why
That's All Right
That's When Your Heartaches Begin
That's When Your Heartaches Begin (1953)
Tomorrow Night
Too Much
Treat Me Nice
True Love
Trying To Get To You
Tutti Frutti
U
V
W
We're Gonna Move
When It Rains, It Really Pours (1955)
When It Rains, It Really Pours
When My Blue Moon Turns To Gold Again
X
Y
You're A Heartbreaker
Young And Beautiful
Z